Thank you for a fantastic 2014!
This was our 3rd year hosting the 4x4 Cross Throttle King finals where the country's best offroad trucks came to compete against one another. Over 60 trucks qualified for this year's finals and a good portion of those made the trip to South Carolina to determine this year's Champions.
If you have never seen a Throttle King Championship, then you should plan to soon. It is 2 days of competition between the best of the best. This year's Mega Truck and Race Truck Champions were crowned here and it was Barry Thompson and Johnny Jackson that took home the hardware. We also crowned our first Throttle Queen and it was Paula Cooksey that was our winner.
-----------------------------------------------------------------------------------------------
Trucks Gone Wild was another Huge Success
This was our 5th year hosting a Trucks Gone Wild Weekend event here in South Carolina. We always see some of the best mud slinging action of the year at this annual event and we were not disappointed again this year. Over 70 trucks from 10 states came to compete this year and it was the locals that really showed their muscle and skill once again. The results from this year's event are as follows:
MEGA TRUCKS

1st Barry Thompson - Intruder
2nd Doug Stapleton - Spare Parts
3rd Allen Ritter - Ritter's Skidder
A Class 35 & UNDER
1st Dean Wheeler/ Spitfire
2nd Randy Summers/Danger Zone
3rd Lisa Perkins/ It's All Good
B Class 39.5 & UNDER
1st Josie Owenby/ Nasty Habit
2nd Jonathan Thomas
3rd Bob Carter/ Sign Rock Mud Bog
C Class 44 & UNDER
1st Ernie Warder/ Mudlifcrisis
2nd Richard Moss / Toyota
3rd Jacob Watson/84 chevy
1 ton & under
1st Jay Wood/ Mental Unstable
2nd Michael Thompson/ Mud Nasty
3rd Phillip Beasly/ Camo Blazer
---
June 7th Results - MTS Series Event
MEGA TRUCK SERIES
1st Shawn Goodeaux
2nd Mark Clark
3rd Larry Pierce
35/Under

39.5/Under

44/Under

Tractor

1. BT Summers
2. Dean Wheeler
3. Jordyn Twitty

1. Ricky Jones
2. Daron Owens
3. David Williams

1. Ernie Warder
2. Glenn Scronce
3. Matt Shelly

1. Jakeh Cooper
2. Wesley Smoke
3. Allen Ritter
---
03/15 SEASON OPENER WAS HUGE SUCCESS



We had a tremendous showing for our first event of the 2014 season. If you couldn't make it, you missed another great bog at Twitty's. We had over 60 trucks compete in 4 classes. This month's bog was a great one and the pits were near perfect for all of our competitors. Everyone was tested and the crowd witnessed some great mud slingin' action. Those that made the podium in each class were as follows:
35/Under

39.5/Under

44/Under

Tractor

1. Nick Schiling
2. Doug Van Duyne
3. Thomas Mayfield

1. Ricky Jones
2. Marc Mayfield
3. Randy Summers

1. Jeff Buxton
2. Ernie Worder
3. Jimmy Page

1. Barry Thompson
2. Russell Twitty
3. Allen Ritter

We want to congratulate all of our competitors and we also want to thank everyone that came to Ulmer, SC for our season opener. We enjoy seeing our entire muddin family and we look forward to our next event - we hope you and your family can make it!
---
Twitty and the Liva Killa went to Hale Michigan back in August of this year to compete in the Wheelie King competition. He was able to hold off the north's very best to bring home the win and the 9' tall trophy.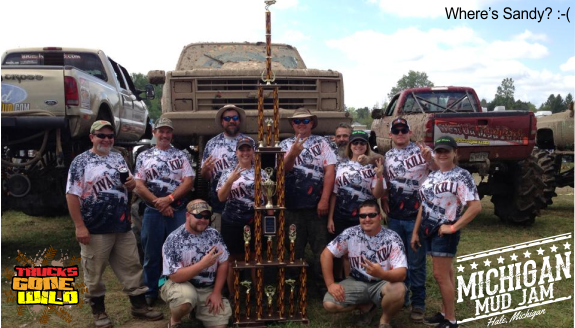 ---
IMPORTANT NOTICE: No Pets or Glass Bottles/Containers will be allowed
Read the news from past events - Click Here