EVENT NEWS - RESULTS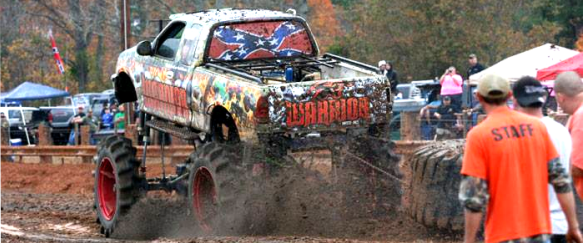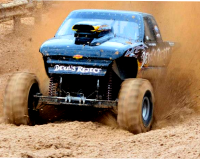 Throttle King Finale wraps up 2013 Season
Over 40 of the baddest Race & MEGA Trucks from across the country were hosted by Twitty's Mud Bog and 4x4Cross the first weekend of December and everyone in attendance witnessed an awesome 5-event show! Trucks came all the way from Vermont and the New England area to compete against all of the 2013 Qualifiers. For more details on these events, goto www.4x4cross.com.

We would like to congratulate the 2013 Champions - Windle Skipper from Conway, SC captured his second Racing Championship in a row and first time qualifier, Shawn P. Goodeaux, won the MEGA Truck Championship. Goodeaux is from Singer, LA and barely edged out over 20 top qualifiers to win the crown. He took home the trophy and a wrecked truck, but showed all of us his true Cajun Spirit!
---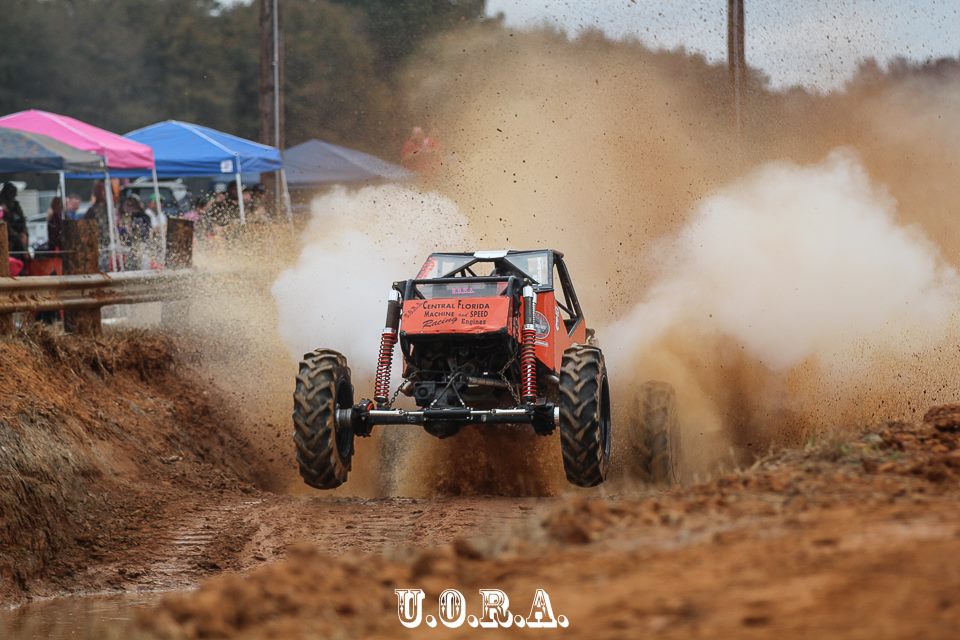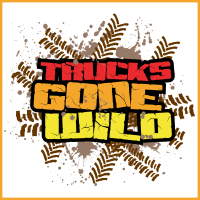 Massive Turnout for TGW 2013 at Twitty's Mud Bog
Some of the baddest trucks in the SE came out to compete at the TGW Event held on Nov 23rd in Ulmer, South Carolina. Be sure to check out all of the pictures and video circulating online. If you were not there, you missed the best truck action the state has ever witnessed in person.
To all of those that came out and showed their support - we all thank you! SC has some of the best fans out there and we truly appreciate everyone coming out to watch all of the action. We also want to wish congratulations to all of our Winners:
35/Under
39.5/Under
44/Under
Tractor
Race

Thomas Mayfield
BT Summers
Jamey Ragrole

Mark Castillo
Richard Fortner
Cory Parish

Jimmy Page
Glenn Scronce
Lee Ray

Mark Clark
Doug Stapleton
Michael Fleming
Keith Spiker
Joey Adams
Mitch Fulford
---
2nd Annual Mudding Benefit for Ronald McDonald House Charities was a Huge Success
We want to thank all of our fans that came out to support our 2nd Annual Benefit Bog for the Ronald McDonald House Charities. The crowd and truck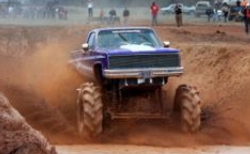 participation was one of the best we have ever had at Twitty's Mud Bog and we truly appreciate everyone's support and generosity. For those that did not attend, we had 80 trucks competing and of those, 26 were Mega Trucks! We tried something different with the Mega Trucks this time out and it was awesome - just wish Mother Nature would have cooperated a little more. All events ran late into the night due to the non-stop action put on by all of our great truck owners and drivers. We also want to thank all of those that traveled from far away to support this special event. We will have our class winners posted up very soon, so please check back.
30th Annual Cooter Festival Weekend of Racing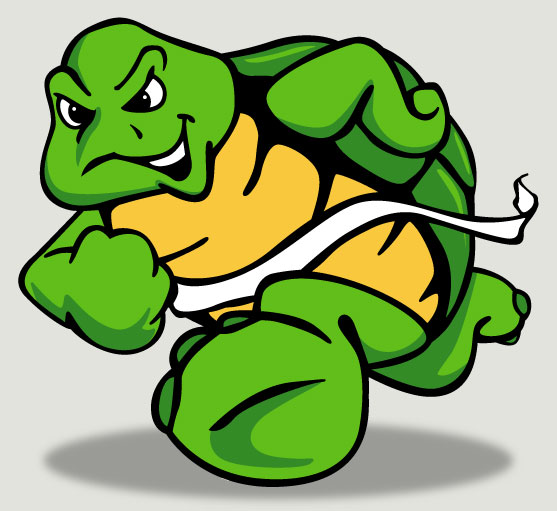 Our last event was held Saturday, May 11th, right after the local Allendale CooterFest. It was one of our best events ever and the action was top notch. We want to thank all of those that traveled so far to put on such a great show for our South Carolina fans and friends. We had trucks from SC, GA and LA in the house. A special thanks goes out to the Singer Slinger Mud Team from Singer, LA - they brought three of there best trucks and ended up being a fan favorite for everyone in attendance. We also want to thank all of the locals that put on one of the best shows ever. You guys make SC Bogging what it is today and we appreciate everything you do to help support Twitty's Mud Bog and our events.
The results from the weekend were as follows:
35/Under
39.5/Under
44/Under
Tractor

Ernie Spires
Derek Jackson
BT Summers

Randy Summers
Derek Cheek
Jason Wood

Mat Poynter
Adam Warder
Bret Laso

Shawn Goodeaux - Singer Slinger
Shawn Goodeaux - Warrior
Kyle Adams
Chilly weather doesn't hold back crowd
The 2013 season kicked off Saturday (03/02/13) on a chilly day in Ulmer, SC., but the fans and crowd still showed up. The season opener featured (4) classes of mud bogging action. With the 17" of rain we have received over the past few weeks, we were all a little concerned with how the mud would turn out. We have to say that it was probably our very best to date though - both pits turned out awesome! All of the trucks were truly tested this time out and the driver feedback was phenominal. We want to thank everyone for their support and for coming out to the event. We look forward to seeing everyone again in May.
35/Under
39.5/Under
44/Under
Tractor

Doug Van Duyne
Derek Jackson
Andrew Floyd

Randy Summers
Nick Schilling
Ben Owens

Hunter Rich
Mat Poynter
Adam Warder

Johnny Jackson
Russell Twitty
Michael Fleming
Click here to check out the 2013 schedule.
---
Don't get stuck in the mud! If you're driving a Jeep, make
sure it has a Jeep Wrangler lift kit
---
A Look Back at 2012 - Inaugural Year
---
4x4 Cross National Finals at Twitty's Mud Bog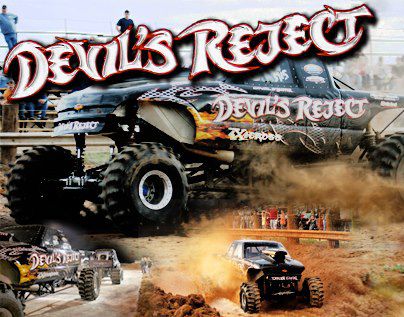 Drivers and Trucks from across the country invaded Ulmer, SC Nov 30 - Dec 1st for the Throttle King National Finals. This action packed event consisted of Trucks Tugs, Hill N Hole, Sled Pulls and much more. Qualifiers competed in two classes - 1 Ton and Mega Truck.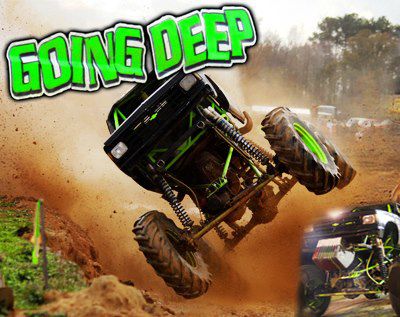 The best of the best competed for Braggin' Rights and lots of Cash. The 1 Ton Champion for the finale was Windle Skipper in Devil's Reject and the Champion for the Mega Truck Class was Cory Rummell in Going Deep. More Info >> Click Here

Trucks Gone Wild was another awesome event weekend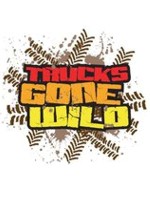 The Muddin Nation pulled into town on November 9th-10th for an Action-Packed weekend of High Flying and Mud Slinging trucks from all across the South. The Truck Gone Wild cameras were there to catch all of the jumps, rolls and everything in between. Also, our annual Friday Night Bonfire Party was another great time to hang with friends (new and old). Read all the chatter now
Class Results - 11/10/12
Race
35/Under
39.5/Under
44/Under
Tractor

Cody Cunningham
Nick Schilling
Alan Youngblood

Hugh Boyce
Cory Parish
David Ziegler

Nick Schilling
Ryan Staples
Tucker Cheek

Alan Youngblood
Jeff Buxton
Adam Warder

Daniel Mundy
Cass Bracewell
John Gordon
Ronald McDonald Bogging Benefit with Nasty Boyz Offroad was a HUGE Success!


WOW O' WOW! What a great event. For everyone that attended this event, you witnessed a true Boggin Show. We had over 80 awesome trucks running Duel Pits, slinging mud and taking names. We also finally saw a truck conquer the New Deep Pit - two of the Nasty Boyz Off Road entries made full passes and took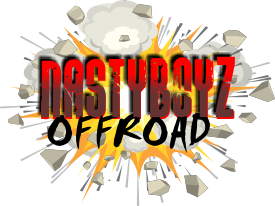 home bragging rights back to Georgia. It was Mark Clark from Alamo, Georgia in his BBC powered Orange Jeep that won the Tractor Tire Class. That class had over 20 of the nastiest Tractor Tire trucks that SC has ever seen at one time - it was crazy!! We also want to thank everyone for their generosity and support. Together, we raised a ton of money for the Ronald McDonald House Charities.
Class Results - 09/29/12
Race
35/Under
39.5/Under
44/Under
Tractor

BROOKS SMITH
KENNY McGUGEN
TROY COLLINS

DOUG VAN DUYNE
DERRICK JACKSON
DEAN WHEELER

BROOKS ABNEY
MATT SHELLY
TINA KENNEDY

WISTER RITCHIE
SCOTT BECKHAM
SCOTT PHILLIPS

Mark Clark
Hank Steinhauer
Ronnie Bates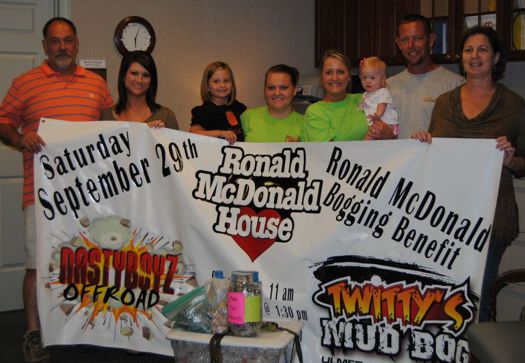 ---
Questions about the event, Contact Us