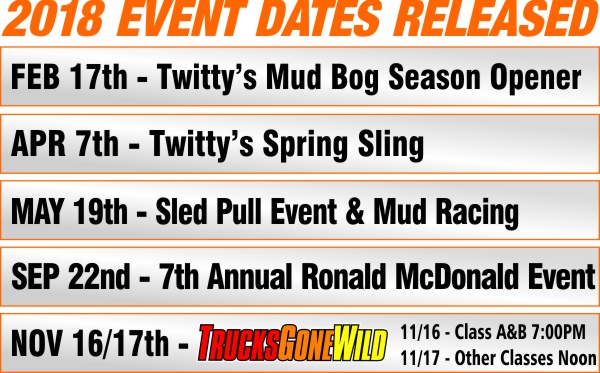 FINISHING UP THE YEAR WITH A BANG!!
UP NEXT - Trucks Gone Wild is headed back into South Carolina for their 2017 finale event of the season. The dates are November 17th/18th and this is the largest event in South Carolina each year. The A & B Classes will run Friday night under the lights and the remaining classes will all run on Saturday. We always host a great bonfire party on Friday & Saturday nights and we enjoy great fellowship with people from all over during the weekend. It's always neat to see Ulmer's population double once each year, so make plans today to be at Twitty's in November. More information will be posted soon and you can also join our newsletter to receive updates as well. Follow us on Facebook for pics and event info.

TRACKSIDE PARKING FOR TGW IS SOLD OUT.
All normal parking spots throughout the park
will continue to be available all
weekend at this event.
---
9/23/17 - Winners
A Class 35 & UNDER

1st Mike Taylor/Chevy
2nd Cassidy Lane/ Hammer Down
3rd Kyle Shelly / Clean Slate
B Class 39.5 & UNDER

1st Tristen Adams/ ford
2nd Owen Harbeson/ Bad Habit
3rd Matt Shelly/ Mud Stud

C Class 44 & UNDER

1st Brandon Yelton/ Ol yeller
2nd Matt Shelly/ Mud Stud
3rd Cassidy Lane/

1 ton & Under

1st Hugh Williams/ Mud Cat
2nd Jack McCoy/Hillbilly
2nd Adam Warder/ Loose Cannon
MEGA'S

1st Barry Thompson/Intruder
2nd Matt Bonnett/ Slime Time
3rd Victor Adams/
5/20/17 CLASS Winners
A Class 35 & UNDER

1st Thomas Mayfield / Black Betty
2nd JR Tucker / White Ghost
3rd Kyle Shealy / Clean Slate
B Class 39.5& UNDER

1st Mike Pritchard / Pritchard Strong
2nd Paul Smith / Natural Distaster
3rd David Williams / Soggy Bottoms

C Class 44 & UNDER

1st Greg Willey / Heinuff
2nd Lee Seagers / Dirty Hands
3rd Wyatt Twitty /Lil Killa

1 Ton V-Tread

1st Jordyn Twitty/ Twitty's Princess
2nd Johnny Jackson / Mohawk Madness
3rd Greg Willey / Heinuff
MEGA Trucks

1st Kevin Lawrence / KING KRUSH
2nd Bobby Brown / Heavy Metal
3rd Bill Scott / No Mercy
MARCH 20th CLASS Winners
A Class 35 & UNDER

1st Bill Hair
2nd Blaine Heffelfinger
3rd Dillon Threatt
B Class 39.5& UNDER
1st David Williams
2nd Jeffery Hair
3rd CoreyThrarin

C Class 44 & UNDER
1st Cole Priest
2nd Greg Willey
3rd Wyatt Twitty
1 Ton V-Tread
1st Jack McCoy
2nd Daren Owens
3rd George Farmer
2.5 Ton & Up - MEGA Trucks

1st Victor Adams
2nd Jody David
3rd Phillip Phillips

---
We have a great thing going on here in Ulmer, South Carlina and it is all thanks to the drivers and fans. Your support is legendary and we thank you for it. We will also be ramping up our driver safety program again this year and ask that all drivers be aware and do their very best to comply with all safety rules. We always want your safety to come first and things like Roll Cages, fire suits and fire extinguishers can go a long way to help protect you.
---
IMPORTANT NOTICE: No Pets or Glass Bottles/Containers will be allowed at Twitty's Mud Bog
Read the news from past events (2014) - Click Here