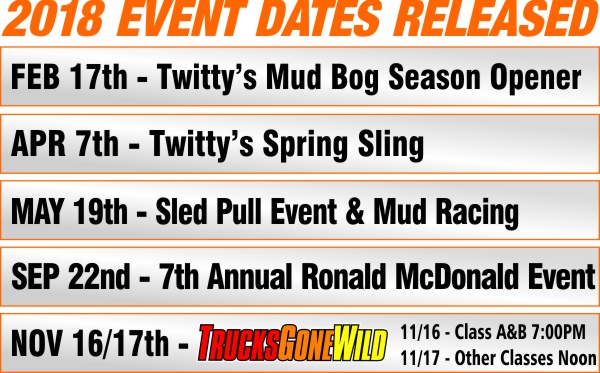 Secure your Trackside Parking spots prior to each event.

All normal parking spots throughout the park
will continue to be available all
weekend at these events.
---
2/17/18 Winners
A Class 35 & UNDER
1st Riggs Heffelfinger
2nd BT Summers
3rd Thomas Mayfield
B Class 39.5 & UNDER
1st Cassidy Lane
2nd Matt Shelly
3rd Corey Thrain

C Class 44 & UNDER
1st Brandon Yelton
2nd Matt Shelly
3rd Butch Oldani

1 Ton Vtread & Under
1st Jordyn Twitty
2nd Greg Hankel
2nd Adrian Roberts
MEGA'S
1st Mark Hurston
2nd Victor Adams
3rd Wesley Smoak
---
Video Highlights from Trucks Gone Wild

Monsterado - Winning Pass https://youtu.be/s2-NEFw7HgI
Slimetime's Roll over - https://youtu.be/fNa4SIc2Jlg
HellBoy Runs - https://youtu.be/ly1SToGUCy0
Intruder 2.0 - https://youtu.be/f69cujjV3Ho
Above All Mega - https://youtu.be/y0eQUaftmPk
HMB Bronco - https://youtu.be/RATUxoYAyNY
Liva Killa - https://youtu.be/kP44q8I62Xk
---
We have a great thing going on here in Ulmer, South Carlina and it is all thanks to the drivers and fans. Your support is legendary and we thank you for it. We will also be ramping up our driver safety program again this year and ask that all drivers be aware and do their very best to comply with all safety rules. We always want your safety to come first and things like Roll Cages, fire suits and fire extinguishers can go a long way to help protect you.
---
IMPORTANT NOTICE: No Pets or Glass Bottles/Containers will be allowed at Twitty's Mud Bog
---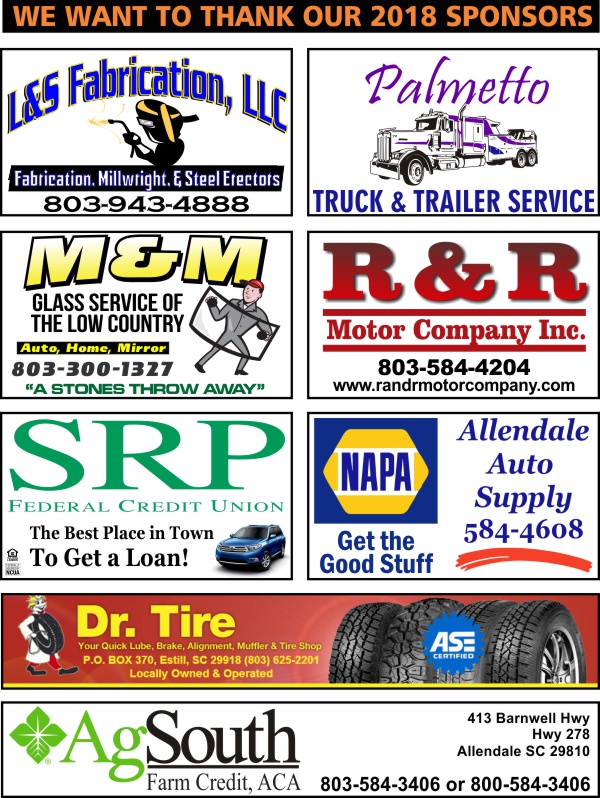 ---
Questions about an upcoming event, Contact Us