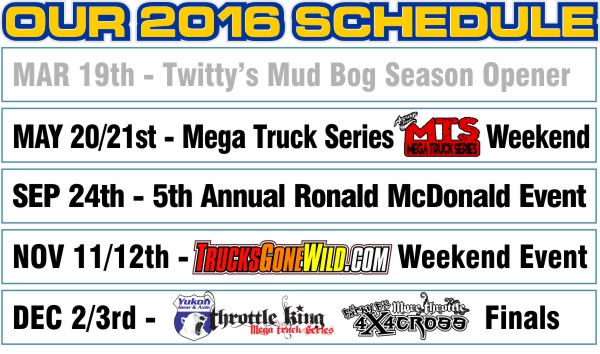 UP NEXT - We will be hosting our Annual Trucks Gone Wild event. Trucks Gone Wild is typically our largest event of the season with trucks coming from all over the southeast. All Classes will be running and the cameras will be rolling to capture all of the action. We hope you and your family will make plans today to be there with us.

We have (2) awesome events remaining this season including our Annual Trucks Gone Wild weekend and then we will wrap up our season once again with the Throttle King finale.
TRACKSIDE PARKING SALES OUT FAST. Secure yours today. All normal parking spots will continue to be available all weekend at every event.
---
Sept 24th 2016 - Race Results

A Class 35 & UNDER
1st Cassidy Lane/ Hammer Down
2nd Brandon Greene/ Bad Apple
3rd BT Summers/ The Grape Ape
B Class 39.5 & UNDER
1st JC Hallman/ Twisted Money
2nd Brandon Bell/ Kickin' Up Mud
3rd Cassidy Lane/ Friends Toyota

C Class 44 & UNDER
1st Mac Mayfiled
2nd Greg Willey/ Hi Enuff
3rd Brandon Cook/ Money Pit
1 Ton VTread
1st Michael Wilke/ Slow Junk
2nd Mat Poynter/ Heavy Footin
3rd Jordyn Twitty/ Twittys Princess

2.5 Ton & Up
1st Ricky Thompson/ Invader
2nd David Coulter/ Monsterado
3rd Victor Adams/ Lethal Weapon

May 21st 2016 - Race Results
A Class 35 & Under
1st Riggis Heffelfinger/Jojo's Toy
2nd Cassidy Lane/Hammer Down
3rd Alex Gloves/Zero Tolerance

B Class 39.5 & Under
1st JC Holman/Toyota
2nd Brian Green/Big Nasty
3rd Matt Priester/Ford
C Class 44 & Under
1st William McArn/Mud Devil
2nd Wister Ritchie/Dirty Dawg
3rd Wyatt Twitty/Lil Killa
1 Ton V Treads
1st Mitchell Bodiford/Ford
2nd Jordyn Twitty/Twitty's Princess
3rd Dustin Day/Bronco

2.5 Ton Bog Class
1st Mark Hurston/HMB Bronco
2nd Tripp Carter/Crazy Medicine
3rd TJ Senn/Chevy
MTS Race Series - Round 3 Results
1st Chris Libak
2nd Ryan Camp
3rd David Coulter
March 19th 2016 - Race Results
A Class 35 & UNDER
1st JR Tucker/ White Ghost (ford)
2nd Buck McLeod /Grandson's Inheretance
3rd Cassidy Lane/ Hammer Down
---
We have a great thing going on here in Ulmer, South Carlina and it is all thanks to the drivers and fans. Your support is legendary and we thank you for it. We will also be ramping up our driver safety program again this year and ask that all drivers be aware and do their very best to comply with all safety rules. We always want your safety to come first and things like Roll Cages, fire jackets and fire extinguishers can go a long way to help protect you.
---
IMPORTANT NOTICE: No Pets or Glass Bottles/Containers will be allowed
Read the news from past events (2014) - Click Here